Krissy Chutskoff was diagnosed with breast cancer at the age of 37. Navigating this disease at a young age came with challenges, yet throughout her cancer journey, she found hope in her loved one's support, leaning into feel-good activities and learning about the new Calgary Cancer Centre.
Here, she shares her story…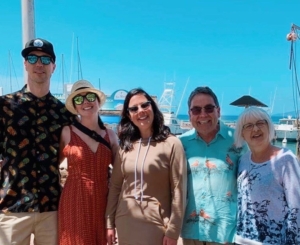 Tell us about yourself…
"My name is Krissy Chutskoff. I've lived in Calgary for over fifteen years now and share a home with my husband, Chad, and our free-roam house bunny, Flirt, who makes us laugh and brings us so much joy every day. My husband and I are both originally from Saskatchewan, so we are both devoted Saskatchewan Roughrider fans and enjoy travelling back to the province regularly to spend time with our families.
"Although my husband and I are homebodies, who enjoy staying in with a good book, movie, or crossword, we also enjoy supporting local live music, entertainment, and food with our friends."
How did your cancer journey begin?
"I found out that I carried the BRCA1 gene in 2009 when I was 27. Because of that, I was set up with semi-annual mammograms, MRIs, ultrasounds, blood tests, and physical exams for breast cancer surveillance.
"I stayed on this surveillance program dutifully until December 2019, when I went in for a regularly scheduled surveillance MRI. I wasn't overly concerned about it since my most recent mammogram, and a recent physical exam, didn't show any cause for concern. With this, I was in high spirits for the holiday season.
"A day after my MRI, while driving home for Christmas, I received a call from my Doctor that the MRI had shown a large mass and a swollen lymph node in my left breast. Given my BRCA1 gene status and this mass's seemingly rapid growth rate, this likely was something of concern. I returned from the holidays, on January 2, I was sent in for a biopsy. On January 8, I was officially diagnosed at the age of 37 with stage 2 Triple Negative Breast Cancer, which had spread to my lymph nodes.
"I had 18 months of active treatment, which included neoadjuvant chemotherapy, a bilateral mastectomy, 25 rounds of radiation, and 6 months of additional oral chemotherapy."
How are you doing today?
"Today I am just over a year out of active treatment, considered NED (No Evidence of Disease) and doing quite well! I'm still getting used to my "new body" and struggle the most with fatigue, brain fog, sore joints, and other fun symptoms that go hand in hand with a post-cancer and surgical menopausal body in your thirties.
"Daily workouts and walks in our beautiful neighbourhood help loosen up the body, and I recently completed the 8-week brain fog course through Wellspring, which armed me with many wonderful tools to utilize and help with that. I also had a prophylactic oophorectomy to decrease my chances of developing ovarian cancer (the BRCA1 gene also greatly increases the risk of that).
"From the moment I was diagnosed with cancer, there was a plan in place and no messing around. My experience at the Tom Baker Cancer Centre felt like a well-oiled machine."
How did you feel supported by the healthcare professionals and staff at the Tom Baker?
"I remember the first chemo treatment that I had alone. I couldn't open my snacks (one of the many reasons caregivers are so important, snack help) because my hands were in ice mitts to prevent neuropathy. I started to cry, an RN saw me struggling, and she ran over immediately to help. The excellent Tom Baker Cancer Centre staff, and the caregivers supported me as much as possible in a constantly changing situation.
"Not to mention, I have no doubts that if I did not receive routine screening due to my BRCA1 mutation, I would not be here today."
What were some challenges you faced through your journey, and what advice do you have for others who may face the same challenges?
"The hardest part of my diagnosis was the worry it caused my family and friends. I know that my parents would have given anything to take the pain away for me and seeing how hard it was on my husband (the ultimate caregiver) was very difficult.
"A piece of advice I lived by was even though it can be uncomfortable to ask, just do it. People genuinely want to help, so let them know what you need if anything (rides, dinners, help cleaning). That and don't feel the need to purchase a ridiculously overpriced wig. Amazon has endless fun ones for a fraction of the cost."
What does the new Calgary Cancer Centre mean to you?
"I distinctly remember sitting alone in one of the dark and aged Tom Baker basement waiting rooms watching the TV as it displayed renderings of the new Calgary Cancer Centre – showing the bright open atrium – and feeling an overwhelming sense of hope for future patients.
"When someone knows they are receiving state-of-the-art care and it looks and feels new and shiny, it gives people extra confidence in their journey.
"The state-of-the-art technology, treatment, research, and clinical trials that will be offered at the new Centre means that many more lives can be saved."
Originally posted on the OWN.CANCER blog.
Inspired by Krissy Chutskoff? You can share your story too! You never know whose life you could change simply by talking about your own, share your story today.