Torey Erdman is a born and raised Calgarian, working as an Operating Room Nurse at the Rockyview General Hospital. In 2021, a CT scan revealed a 'soccer-ball' sized tumour in Torey's abdomen, and she was diagnosed with a rare form of liposarcoma. Recently, Torey celebrated her one-year post-surgery anniversary and her one-year of being re-occurrence-free!
Today, she shares her story with us…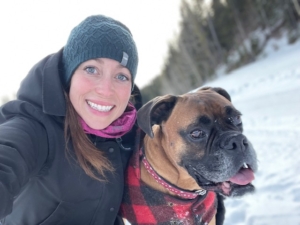 Tell us about yourself…
My name is Torey Erdman, and I am 37 years old. I am a registered nurse working in the Operating Room at the Rockyview General Hospital in Calgary.
I love to travel, and I would consider myself an outdoor enthusiast… really anything that gets me outdoors and to the mountains. I have a 7-year-old boxer dog named Hank. Lucky for me, he joins me on most of my adventures and keeps me active and out of trouble.
I am close with my family, including my younger sister, Tamara, who I talk to every day. I am truly blessed to be surrounded by such an amazing support network, and I have so much gratitude for my family and friends.
How did your cancer journey begin?
My cancer journey began in October 2021, following thanksgiving dinner. Like many people, I overindulged in dinner and was left with a very uncomfortable "full" feeling that I assumed was from eating too much turkey. Only the feeling didn't really go away.
The next week at work, I just happened to have a casual conversation with a surgeon colleague of mine, who thought my symptoms warranted further investigation. An urgent CT scan revealed a 26cm tumour in my abdomen. I was completely shocked to hear the news as the idea of a soccer ball mass in my tummy seemed impossible. The following days were consumed by more tests, appointments and a biopsy to determine I had a very rare form of liposarcoma cancer.
The words "I have cancer" were inconceivable.
The Tom Baker Cancer Centre staff were very welcoming and sensitive to my diagnosis. I remember sitting with the surgery team with my notebook of questions ready. As an OR nurse, I felt relatively prepared for whatever news they were going to deliver.
I remained strong and stoic during the appointment until the surgeon told me that the surgery would entail not only removing the 26cm tumour from my abdomen but also my left kidney, spleen, and portions of my pancreas, bowel and diaphragm.
The news shattered me, and I finally broke down in the office. My incredible team, including my surgeon, sat and consoled me.
Like so many newly diagnosed cancer patients, I was not prepared to hear those details.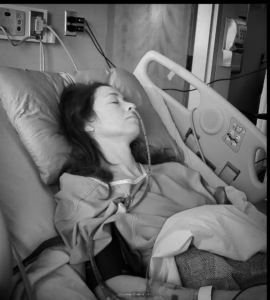 The days and weeks that followed were very unnerving and filled with uncertainty. I went down many rabbit holes on the Internet looking up sarcoma cancer, only to realize there was very little research or good data to support my prognosis. An intense shadow of sadness, grief, and terror crept over me.
In November 2021, the TBCC became very familiar to me as I visited daily for my radiation treatments. The process was rather simple, and lucky for me, I had very few side effects.
I finished radiation on December 24, 2021- Christmas Eve. As I left my last appointment, I was greeted outside and surprised by a group of my closest friends and sister who cheered me on and congratulated me. This wonderful support, combined with the great care I received at the TBCC, left my heart full of gratitude and appreciation.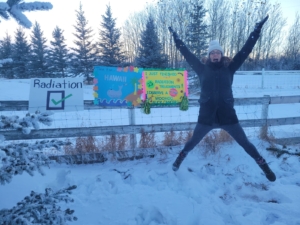 I then had surgery on January 26, 2022. As an OR nurse, I thought I had realistic expectations of what the surgery would entail. But I can 100% tell you that being on the other side of the stretcher- being the patient is a whole different experience. The surgery took almost 8 hours but, overall, went really well.
I cannot thank my fellow surgical teams enough, and my surgeon is my hero. However, I struggled after surgery and spent 3 weeks at the Foothills Hospital. A few hardships and complications later, I returned home a mere 40 lbs lighter and feeling like a much different version of myself.
With time- the body heals, and my incredible sister helped nurse me back to health. I would not have made the recovery that I did without the support and outpouring of love I received from family, friends and colleagues. They continually uplifted me, brought me joy and supported my recovery.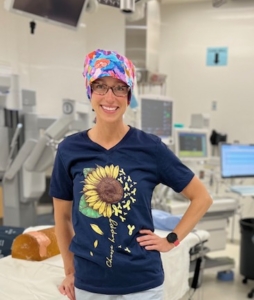 Coincidently, shortly after surgery, I saw a segment on the Calgary news about a local firefighter named Lorne Miller raising money for the Children's Hospital in honour of a young boy. I immediately reached out over social media and discovered that he and I shared almost identical cancer stories. Lorne, without a doubt, has been an incredible inspiration and source of support for me over this last year.
How are you doing today?
Today as I look back, the whole experience seems surreal. I am back to my regular habits- enjoying the outdoors and being active again. It turns out the human body is pretty incredible, and with a little love, time and healing, it can do anything!
Coincidently, I just celebrated my one-year post-surgery milestone and being 1-year re-occurrence free!
So what did we do to celebrate? My friends and I hosted a 1 hour workout at The Method Gym to move our bodies and remind us all that our health should never be taken for granted. We had a great time, worked up a sweat and raised $600 for the Alberta Cancer Foundation.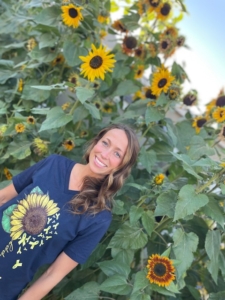 What was a challenge you faced through your journey, and what advice would you give to someone facing a similar challenge?
One of the greatest challenges that I faced was struggling with the decision to do chemotherapy treatment or not. Following surgery, my oncology team presented me with an option to do adjuvant chemo. Unfortunately, because my sarcoma cancer type is so rare, there was very little data or research to support that chemo would be effective or not. I waffled with the decision for weeks and literally flip-flopped daily on the choice.
It was the hardest decision I had to make throughout my entire journey. In the end, I decided against adjuvant chemo- recognizing that at that time my body needed time to heal.
My advice to those experiencing something similar would be to reach out, ask questions and try to find someone going through a similar experience. The power of connection with another is invaluable.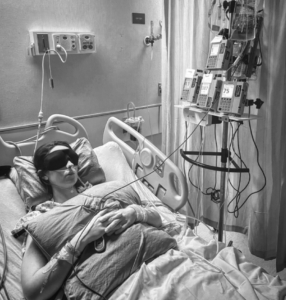 What else would you like to share?
I thought it might be worth mentioning that although my own personal experience with cancer began in October 2021, cancer has been an impactful part of my life for 27 years. My mom passed away when I was 10 years old from breast cancer. Losing a parent at such a young age meant I already had an established perspective of what a cancer diagnosis could mean.
I also lost a very dear friend to pancreatic cancer in August of 2021- although his death was inexplicably painful, his passing was also peaceful, beautiful and left me changed for the better.
My experience of losing these loved ones has shown me the true meaning of grace, humility, strength, resilience, bravery and love. Qualities I can only hope to foster in myself as I navigate this journey.
Sarcoma cancers account for less than 1% of all cancers. The yellow ribbon is meant to increase public awareness of sarcoma cancer, and the sunflower is a symbol of hope, used by sarcoma communities around the globe to remind those affected by sarcoma that they are not alone and they are strong.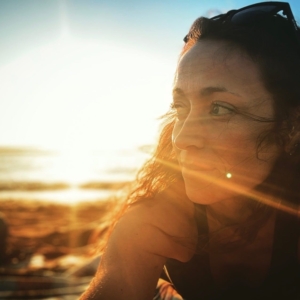 You never know whose life you could change simply by talking about your own, share your story today.